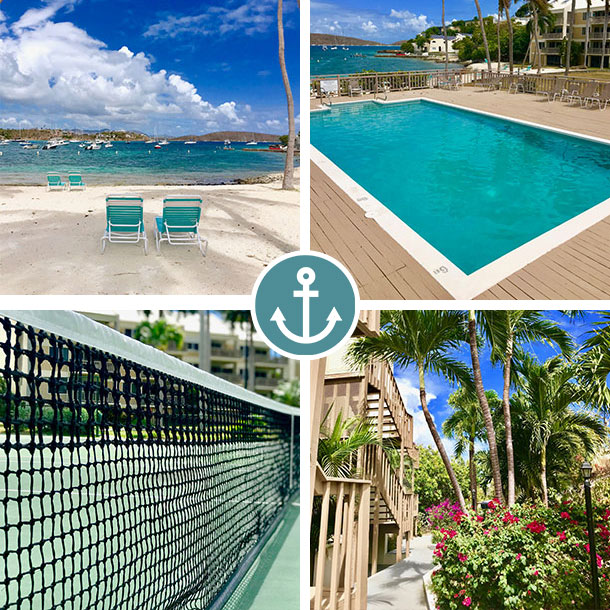 The perfect location
We are located on beautiful Cowpet Bay in sunny St. Thomas, USVI.  The Anchorage is a residential, family-owned neighborhood.
With a sugar sand beach, beachside pool, fitness center and tennis courts owners always feel as though they are on vacation!
Living Here
Anchorage includes 75 units and is a mix of 2-bedroom condos, and 2-bedroom condos with a loft.
The pool is situated right on the beach and the adjacent cabana room is available to owners for entertaining by special request.
In the fitness center, you will find a selection of weights, treadmills, recumbent bikes, and a rowing machine, all updated in 2019.
The tennis courts in the center of the property are open to all owners. If you wish to play at night, please let our property manager know so he can turn on the light for you.
VISITORS and Renters
Some of our owners do rent their units, most long term but some short term with a minimum stay of 5 nights, with a maximum of 6 occupants per unit. If you are renting at Anchorage please contact the owner or the owner's agent for a card or remote control to open the security gate. If you wish to use the pool and fitness center you will also need a key FOB to open those doors.
Our owners are welcome to entertain – all guests must enter through a secured gate.
Visitors to the pool need to be accompanied by a resident.
Whether you are staying for a week or a few months please check out our house rules here so you'll be in the know on our safety and courtesy policies.
OWNERSHIP
Live like you're on vacation every day at Anchorage Condominiums. We make carefree living easy with a full complement of amenities including a gym, tennis courts, beach, pool and storage facilities.
We love to get to know new neighbors at our social gatherings.
Seaside Residential Living